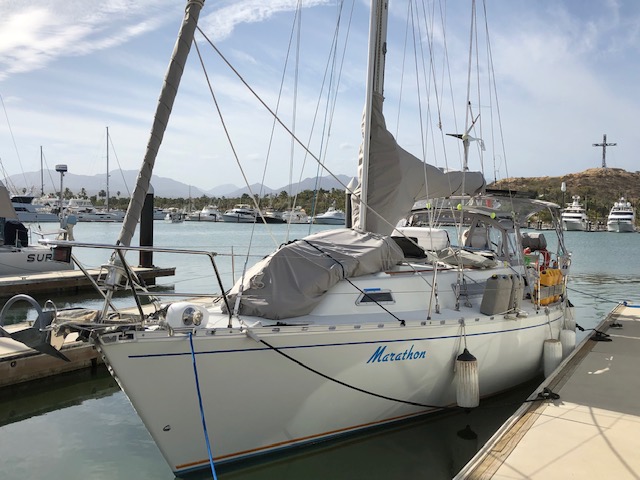 We left La Paz as per plan V1.2 and overnighted in Caleta Lobos after a brisk upwind sail. Early the following morning we departed in wind free conditions and motored the entire distance to Los Muertos. After a comfortable night at anchor we left equally early for Los Frailes. The wind suddenly shifted to a less favourable direction but it was not uncomfortable in the anchorage. Another early start the next morning and a plan to arrive in San Jose del Cabo by noon, refuel, reprovision, sign the final version of our insurance papers and be ready for a departure to French Polynesia mid-day on Wednesday. But…

The wind piped up within an hour of leaving Frailes, from the SW, and was of course right on our nose. We motor sailed into 20 kts of wind (probably should have just sailed) and approached San Jose del Cabo around 3 PM. A small pod of humpbacks (probably a mother and child) greeted us and then accompanied us for the last 40 or so minutes prior to us dropping the sail outside of the marina. The boat was tied to the dock by about 5 PM and a quick inspection of our email account revealed that there were no insurance documents waiting for us. Sigh…..
We have been working on insurance renewal since January (our existing policy expires on 24 March) and the broker in NZ kept saying it is "too early". What he didn't say, but we learned from other brokers, is that the company insuring us last year can no longer insure Canadian boats. After becoming a bit more forceful regarding the importance of having insurance for the next year prior to our departure from Mexico we received an eye watering quote from the broker, but using a company different than our current provider. A US$1500 increase over last year's premium and lots of additional and difficult requirements. The most difficult of which was "three blue water experienced crew to be on board for the duration of the voyage from Mexico to Tahiti". Between the three of us we have more than 100 years of sailing experience and two of us (Peter and the captain) have sailed from Vancouver to Mexico more than 150 miles offshore. Preparation and execution of that voyage are similarly demanding compared to French Polynesia. I also argued that by 24 March, we would all have bluewater experience. We finally received a "binder" on Friday, 14 March. Further documents to follow early this coming week.
But, now there is no wind. Our weather router suggests that this coming Thursday is the best bet so our plan is to be ready by Wednesday, just in case. So we will be leaving (fingers crossed) 18 days later than originally planned, mostly because of insurance and now because of weather. We are eating all of the carefully acquired and stored provisions acquired in La Paz but fortunately, a large and good supermarket is only a 15 minute Uber ride away. We will replenish.
And the hot showers are nice too.