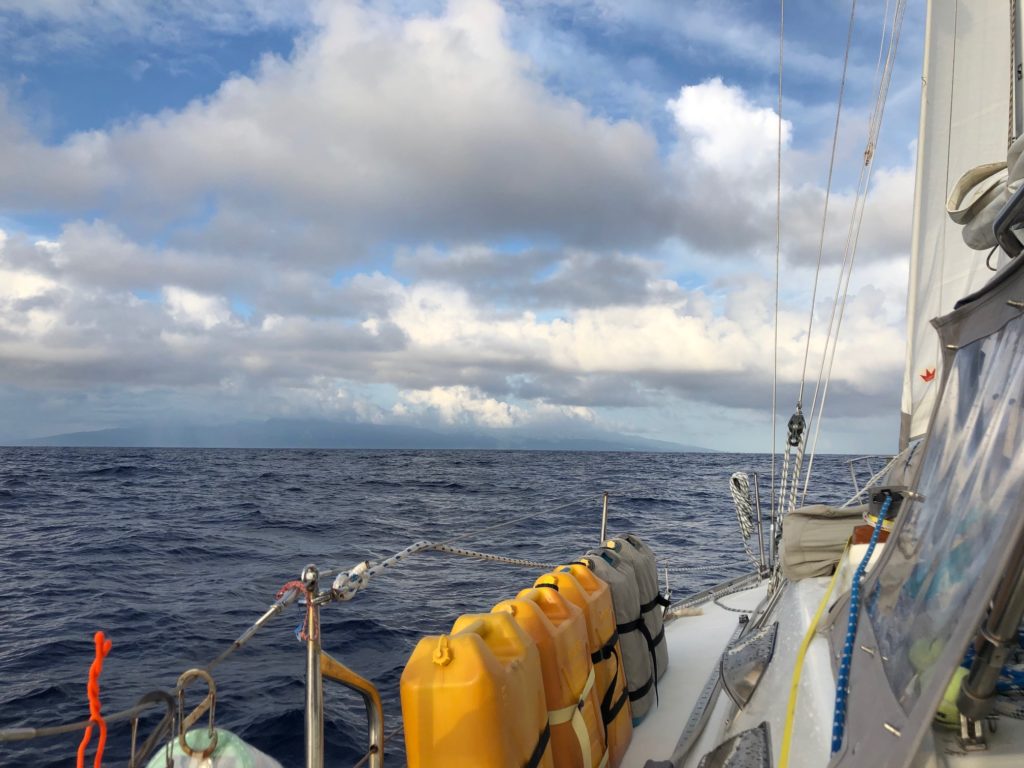 So here we are in fabled Tahiti, in the Windward Group of the Society Islands. The landscape of Tahiti and neighbouring Moorea is truly spectacular. The water is crystal clear and there is a "reef" developing on the concrete wall of the dock to which we are tied, stern to, or "Med" style.
We are still decompressing from another 7 days at sea. Sleeping, eating, and walking are being adjusted to a land-based schedule and environment. The boat is still a bit of a disaster but we are slowly shifting our attention to de-rigging it, cleaning it and fixing those things that broke between Nuku Hiva and here. Fortunately the latter list is very short but includes some challenging items. We need to clean our fuel and fuel tank, figure out how to connect our battery charger to the 220V power supply on the dock (the charger will accept 220V but is wired into the 110V distribution panel) and a couple of other minor items. Cleaning and sorting will be a time consuming activity for several days.
We walked to the Carrefour hypermart yesterday. After shopping for supplies in Nuku Hiva. Carrefour made us believe that we are on a different planet. So supplies will definitely not be a problem until we run out of money. The small mall in which it is located was very busy – an indication that Tahitians have money, given the very high prices of those things that we saw, including our lunches. Peter and I opted for a cheeseburger and fries (C$20 or so) – something we had talked about frequently while at sea. The cheeseburger was very good and the "frites" were excellent.
The marina is interesting. I am definitely not a fan of the med moor but we don't have a choice. Being across the dock from the mega/superyachts puts us in an interesting environment – lots of sight seers walking the docks, mixed with the large crews associated with each of these boats. The dinghy on the yacht across the way from us is probably worth more than Marathon.
We will be here for about a month and hope that we can get out sailing at least once, probably to Moorea for a week or so. Getting in and out of the marina is a very daunting undertaking and I am only half joking when I say that it is as difficult as the sail down here, only shorter.
Tahiti is the conclusion of our offshore sailing for this year, but because the voyage was the destination, we are not done yet. The voyage has been an amazing experience and we now have offshore experience and a real understanding of what is involved in offshore sailing. It is very different from coastal cruising in several ways, distance being the most notable. It is not possible to know what 29 days at sea feels like without experiencing it first hand. This element of the voyage was more difficult than I had expected it to be. Sailing continuously for days and weeks, on and on is great but on a small boat, the challenges of a confined space and the motion of the boat can be daunting. But the challenges contribute to a sense of accomplishment and the end result is all positive.